19th July 2019
Mostly Comedy at The Sun Hotel, Hitchin
19th July 2019.
Jan Ravens, Ken Cheng, Doggett & Ephgrave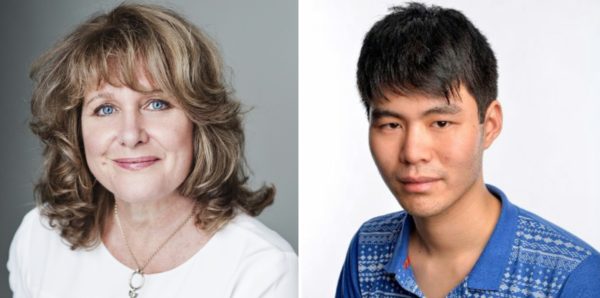 A grab-bag of stand-up, sketches and music from the finest acts on the scene, hosted by the comic duo, Doggett & Ephgrave.
19th July's Sun Hotel Hitchin line-up includes:
A preview from JAN RAVENS
(As seen on 'Dead Ringers', 'QI', 'The Imitation Game' and 'The Big Impression'; heard on 'Spitting Image', 'Just a Minute' and 'I'm Sorry I Haven't A Clue')
'The perfect mimic for our times' (Observer)
'Wonderful' ★★★★ (Telegraph)
'A masterclass in biting satire' ★★★★ (Broadway Baby)
A gutsy comic and a remarkable entertainer' ★★★★ (List)
★★★★ (One4Review)
A preview from KEN CHENG
(Winner of Dave's Joke of The Fringe 2017. BBC Radio New Comedy Award Finalist)
(Heard on BBC Radio 4's 'The Now Show' and 'Chinese Comedian')
'Never less than compelling' (Guardian)
'A fiercely accomplished talent' (Scotsman)
'Brilliantly funny' (Chortle)
Hosted by DOGGETT & EPHGRAVE
'A keen eye for the absurd. Polished, natural comedians' (Camden Fringe Voyeur)
'A good comedy double act: bright, clean-cut, have a sparky chemistry with a good line when it comes to gentle self-deprecation' (Three Weeks)
'Performed with such confidence and enthusiasm I wished they'd been playing to a packed room' (Chortle)
'A great set-up for cringe comedy' (Fest)
Bar open all day. Doors at 7:40pm. SHOW STARTS AT 8:00pm.
PRESALE TO MOSTLY COMEDY MAILING LIST ON SATURDAY 9TH FEBRUARY AT 9:00AM. GENERAL SALE ON MONDAY 11TH FEBRUARY (SUBJECT TO AVAILABILITY). Visit www.mostlycomedy.co.uk to join the mailing list.
Purchasing a ticket guarantees admission on the date specified. You are guaranteed a seat, PROVIDING YOU ARRIVE BY 7:45PM. If you arrive after that time, your seat may be released.
Line-up may be subject to last-minute alteration.