18th September 2020
Mostly Comedy at Hitchin Town Hall
18th September 2020. Phil Cornwell, Brodi Snook, Doggett & Ephgrave (plus podcast interview)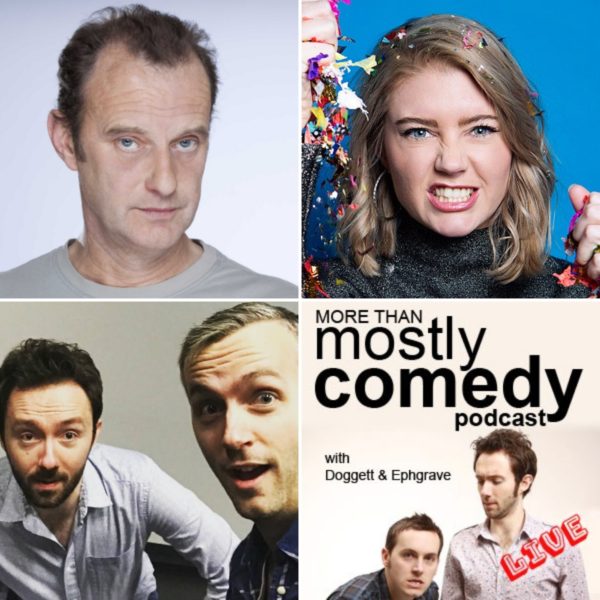 NB This show was originally scheduled to take place on 23rd April 2020, but was postponed, due to the COVID-19 crisis. We apologise for any inconvenience.
A grab-bag of stand-up and sketches from the finest acts on the scene, hosted by Doggett & Ephgrave (incorporating a live podcast interview recorded in the second half).
18th September's Hitchin line-up includes:
Comedy from PHIL CORNWELL
(Seen in 'Dead Ringers', 'Stella Street', 'I'm Alan Partridge', 'Alpha Papa', 'Big Train' and 'Harry and Paul' and heard in 'Spitting Image'.)
(Voice of Murdoc Niccals in Gorillaz and Gilbert the Alien)
'A cult favourite' (Guardian)
'A frighteningly talented man' ★★★★ (Broadway Baby)
'Superb character skills' (Comedy.co.uk)
Stand-up from BRODI SNOOK
(Ardal O'Hanlon's tour support)
'Sharp comic with an astringent wit & jagged attitude' (Chortle)
'Could well be going places' (Telegraph)
'A fringe gem' (G-Scene)
'Sharp, dark, engaging' (Brighton Source)
Hosted by DOGGETT & EPHGRAVE
'A keen eye for the absurd. Polished, natural comedians' (Camden Fringe Voyeur)
'A good comedy double act: bright, clean-cut, have a sparky chemistry with a good line when it comes to gentle self-deprecation' (Three Weeks)
'Performed with such confidence and enthusiasm I wished they'd been playing to a packed room' (Chortle)
'A great set-up for cringe comedy' (Fest)
Doors and bar at 7:15pm. SHOW STARTS AT 8:00pm.
PLEASE NOTE: the second half will feature informal interviews with the line-up, recorded for Doggett & Ephgrave's MORE THAN MOSTLY COMEDY podcast.
Got a question you'd like us to ask Phil or Brodi on your behalf? SUBMIT IT HERE.
Purchasing a ticket guarantees admission on the date specified. You are guaranteed a seat, PROVIDING YOU ARRIVE BY 7:45PM. If you arrive after that time, your seat may be released.
Line-up may be subject to last-minute alteration.