21st October 2021
Mostly Comedy at Hitchin Town Hall
21st October 2021. Hal Cruttenden, Lynn Ruth Miller, Doggett & Ephgrave (plus live podcast interview)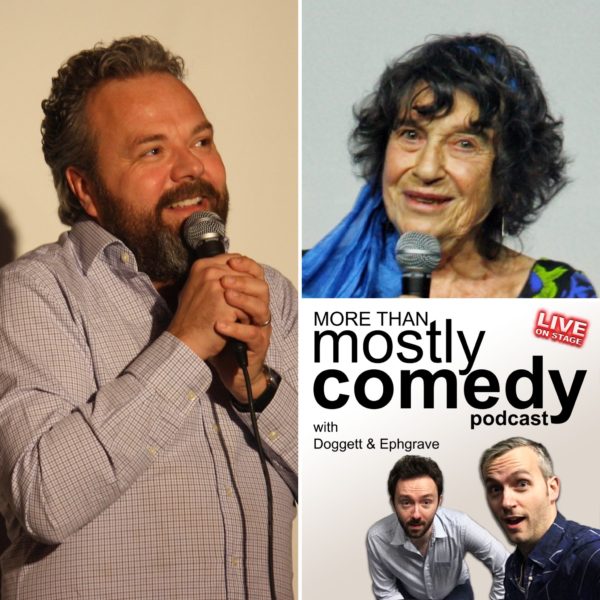 Hertfordshire's popular comedy club returns to Hitchin Town Hall. Join DOGGETT & EPHGRAVE for a comedy mixed bill followed by a live podcast interview.
21st October's Hitchin line-up includes:
Stand-up from HAL CRUTTENDEN
(Seen on 'Have I Got News For You', 'Live at The Apollo', 'Mock The Week', 'Would I Lie to You?' and 'The Great British Bake Off: An Extra Slice'.)
'One of the funniest comics on the circuit' ★★★★ (Time Out)
'Can't fail to delight' ★★★★( Metro)
'An absolute joy to watch' ★★★★ (Scotsman)
'He'll make you laugh…a lot' ★★★★ (Mirror)
Stand-up from LYNN RUTH MILLER
(Star of BBC Radio 4's forthcoming show 'Not Dead Yet'; seen on 'America / Britain's Got Talent')
(The oldest working female stand-up in the UK)
'It's futile to resist Miller's uplifting, carpe diem message' (Guardian)
This woman is sharp…among the fun and shtick there are some killer lines' (Scotsman)
'A personable and charming presence onstage, with generations of wit and experience to draw upon' ★★★★ (Broadway Baby)
'Frankly, you'd do well to keep up' (Time Out)
PLUS A LIVE PODCAST INTERVIEW WITH BOTH ACTS.
Hosted by DOGGETT & EPHGRAVE
'A keen eye for the absurd. Polished, natural comedians' (Camden Fringe Voyeur)
'A good comedy double act: bright, clean-cut, have a sparky chemistry with a good line when it comes to gentle self-deprecation' (Three Weeks)
'Performed with such confidence and enthusiasm I wished they'd been playing to a packed room' (Chortle)
'A great set-up for cringe comedy' (Fest)
DOORS AND BAR AT 7:15PM. SHOW STARTS AT 8:00PM.
All line-ups may be subject to last-minute alteration. Visit www.mostlycomedy.co.uk to join the mailing list.
All our 2021 Hitchin Mostly Comedy dates are dedicated to the memory of Katie Coxall for whom there'll be a collection on the door for Garden House Hospice. You can also donate at point of booking.