22nd July 2021
Mostly Comedy at Hitchin Town Hall
22nd July 2021. Phil Cornwell, Jenny Collier, Doggett & Ephgrave (plus live podcast interview)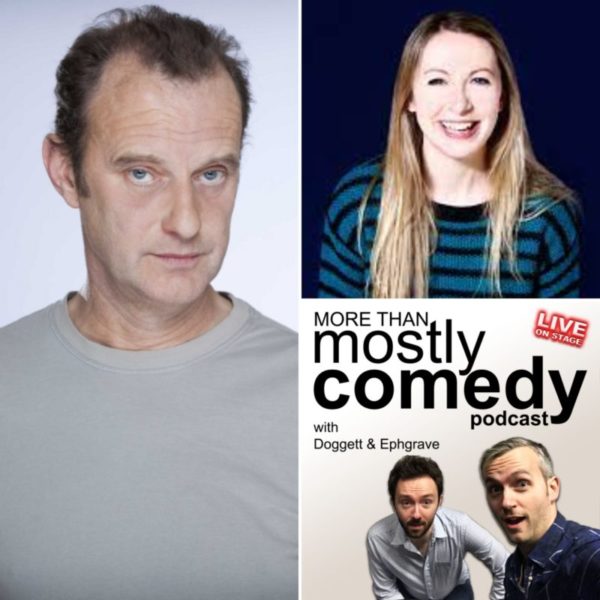 Doggett & Ephgrave present a comedy mixed bill, followed by a live podcast interview.
22nd July's Hitchin line-up includes:
Stand-up from the comic impressionist PHIL CORNWELL
(Seen and heard on BBC's 'I'm Alan Partridge', 'Stella Street', 'Dead Ringers' and the movie 'Alan Partridge: Alpha Papa')
(The voice of Murdoc Niccals in Gorillaz)
'Hilarious…a cult favourite' (Guardian)
'Gloriously daft' (Telegraph)
'A brilliant performer' (Voice Mag)
'Suberb character skills' (Comedy.co.uk)
Stand-up from JENNY COLLIER
(As heard on BBC Radio 4 and BBC Radio 4 Extra)
'Refreshingly original.' ★★★★ (Broadway Baby)
'Excellent ★★★★★ (EdFest)
'Clearly a rising star' (Bruce Dessau)
'One to watch' (Edinburgh Evening news)
Hosted by DOGGETT & EPHGRAVE
'A keen eye for the absurd. Polished, natural comedians' (Camden Fringe Voyeur)
'A good comedy double act: bright, clean-cut, have a sparky chemistry with a good line when it comes to gentle self-deprecation' (Three Weeks)
'Performed with such confidence and enthusiasm I wished they'd been playing to a packed room' (Chortle)
'A great set-up for cringe comedy' (Fest)
Doors and bar at 7:15pm. SHOW STARTS AT 8:00pm.
Tickets £15 or £25 for both July shows, all-inclusive.
MAILING LIST PRE-SALE ON SATURDAY 5TH JUNE FROM 9:00AM (subject to availability)
GENERAL SALE MONDAY 7TH JUNE FROM 9:00AM (subject to availability)
(All line-ups may be subject to last-minute alteration)
The show is dedicated to the memory of Katie Coxall (AKA mushybees) for whom there'll be a collection on the door for Garden House Hospice.