23rd July 2021
Mostly Comedy at Hitchin Town Hall
23rd July 2021. Zoe Lyons, Lynn Ruth Miller, Doggett & Ephgrave (plus live podcast interview)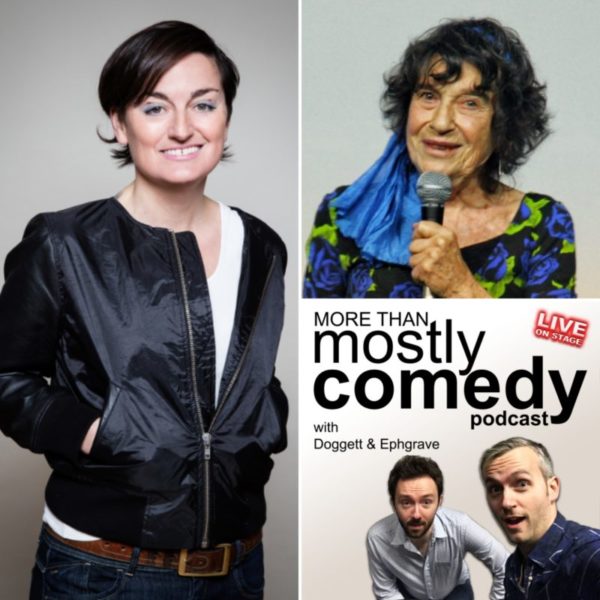 Doggett & Ephgrave present a comedy mixed bill, followed by a live podcast interview.
23rd July's Hitchin line-up includes:
Stand-up from ZOE LYONS
(Seen on BBC's 'Live at The Apollo', 'Have I Got News For You', 'QI' and 'Mock The Week')
(Edinburgh Comedy Awards Best Newcomer nominee 2007)
'Lyons has what it takes to delight any crowd' ★★★★ (Guardian)
'Confident and razor sharp' (Observer)
'Probably the most impressive British female comic on the circuit' (The Skinny)
'I have renewed faith in stand-up comedy after seeing Zoe Lyons' (Australian Stage)
Stand-up from LYNN RUTH MILLER
(Among the Top 4 Comedians on 'America's Got Talent' and Top 100 on 'Britain's Got Talent')
(The oldest working stand-up in the UK)
'It's futile to resist Miller's uplifting, carpe diem message' (Guardian)
This woman is sharp…among the fun and shtick there are some killer lines' (Scotsman)
'A personable and charming presence onstage, with generations of wit and experience to draw upon' ★★★★ (Broadway Baby)
'Frankly, you'd do well to keep up' (Time Out)
Hosted by DOGGETT & EPHGRAVE
'A keen eye for the absurd. Polished, natural comedians' (Camden Fringe Voyeur)
'A good comedy double act: bright, clean-cut, have a sparky chemistry with a good line when it comes to gentle self-deprecation' (Three Weeks)
'Performed with such confidence and enthusiasm I wished they'd been playing to a packed room' (Chortle)
'A great set-up for cringe comedy' (Fest)
Doors and bar at 7:15pm. SHOW STARTS AT 8:00pm.
Tickets £15 or £25 for both July shows, all-inclusive.
MAILING LIST PRE-SALE ON SATURDAY 5TH JUNE FROM 9:00AM (subject to availability)
GENERAL SALE MONDAY 7TH JUNE FROM 9:00AM (subject to availability)
(All line-ups may be subject to last-minute alteration)
The show is dedicated to the memory of Katie Coxall (AKA mushybees) for whom there'll be a collection on the door for Garden House Hospice.