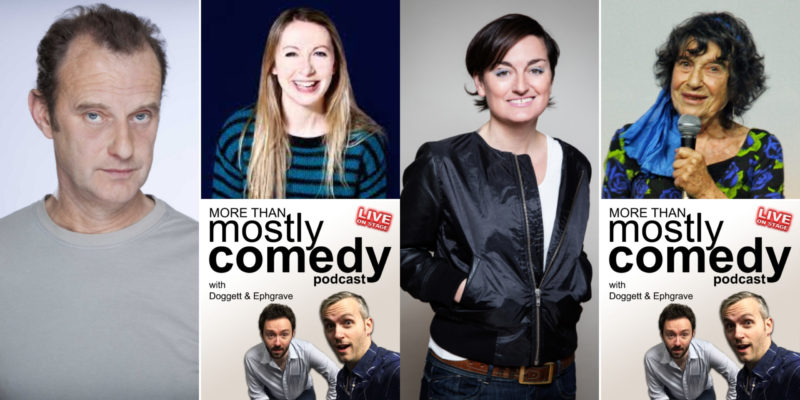 Mostly Comedy / Coronavirus Update (07.06.21)
We're delighted to announce that – subject to the Government's roadmap out of lockdown remaining on course – we plan to reopen our doors for a two-day Mostly Comedy Festival at Hitchin Town Hall on 22nd & 23rd July.
Thursday 22nd July's show will feature stand-up (plus a live interview) from PHIL CORNWELL and JENNY COLLIER; Friday 23rd July will include stand-up (and a live interview) from ZOE LYONS and LYNN RUTH MILLER. Both events are now on sale, with a discounted all-inclusive ticket also available.
There's a chance these dates could be impacted by further COVID-19 restrictions TBA, but we'll aim to postpone before cancellation with the option of a refund in both instances.
Also, thanks to everyone who attended our first live ZOOMostly Comedy interview with JAMES ACASTER on 26th May 2021. An edited version of the chat will feature in a forthcoming episode of More Than Mostly Comedy Podcast soon.
In the meantime, you can listen to eleven new episodes of More Than Mostly Comedy recorded in 2020 with KATE ROBBINS, NORMAN LOVETT, ARTHUR SMITH, RORY BREMNER, MARK MORRISS, BOBBY DAVRO, MARTIN TRENAMAN, DAN SKINNER, JAN RAVENS, ANNA MORRIS, JOSH WIDDICOMBE and ISY SUTTIE and LUCY PORTER (listen here, or via your usual podcast provider; Isy's episode has just been made available).
You can also join our mailing list for the latest news on forthcoming line-ups – and donate to DONATE TO OUR JUSTGIVING PAGE, to help us protect the club through the COVID-19 crisis.
Stay well, stay safe, see you soon. D&Gx