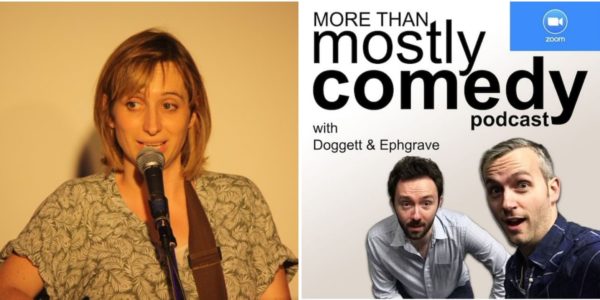 Mostly Comedy / Coronavirus Update (27.09.20)
While we and Hitchin Town Hall are keen to reopen Mostly Comedy as soon as is feasible, we're unfortunately currently unable to meet COVID-19 restrictions in a viable way. We're constantly assessing the situation, however, and hope to be back before 2021 if we can.
In the meantime, we're continuing to host live interviews via Zoom for our More Than Mostly Comedy Podcast; our first Autumn interviewee is Peep Show's ISY SUTTIE on 23rd October, with more new guests TBA shortly; thanks to all who've already appeared this year, including KATE ROBBINS, NORMAN LOVETT, ARTHUR SMITH, RORY BREMNER, MARK MORRISS, BOBBY DAVRO, MARTIN TRENAMAN, DAN SKINNER, JAN RAVENS, ANNA MORRIS and JOSH WIDDICOMBE (listen to their episodes here, or via your usual podcast provider; Josh's interview will be available soon).
Until then you can join our mailing list to be kept abreast of the situation – and donate to our JustGiving page, to help us protect the club through the COVID-19 crisis.
Stay well, stay safe, see you soon. D&Gx