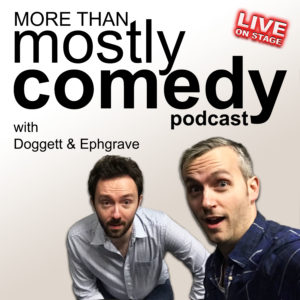 Hitchin Mostly Comedy reopened in July 2023 at the QUEEN MOTHER THEATRE.

At this point, we aren't hosting any live podcast recordings, though this may change in future.
---
In 2020, we announced a new twist to our shows, when we devoted the second half of select gigs to live interviews for our rebooted MORE THAN MOSTLY COMEDY podcast.
Longtime attendees of the club will know we used to record interviews with the acts appearing on the bill – grabbing a moment with them backstage around the show (which was always a timekeeping challenge!) – which you can still listen to for free at Apple Podcasts. People featured on MTMC back then include Paul Daniels & Debbie McGee, Katherine Ryan, Phill Jupitus, Richard Herring, James Acaster, Arthur Smith and Sean Hughes.
We relaunched MTMC in 2020 by briefly integrating it into the performance at certain shows. The first half was like a standard Mostly Comedy with sets from each act, while the second half featured short informal interviews with the line-up onstage. This offered an insight into the people on the bill and how they became a performer.
February 2020's show with KATE ROBBINS and NORMAN LOVETT was the first to take this format, followed by May 2020's episode with ARTHUR SMITH and others (which took place in front of a Zoom audience, due to COVID-19).
You can listen to a selection of interviews we recorded live on stage or via Zoom since 2020 below.
Listen to sixteen new episodes – with SIMON DAY & NORMAN LOVETT, PHIL CORNWELL & JENNY COLLIER, JAMES ACASTER, LYNN RUTH MILLER, LUCY PORTER, ISY SUTTIE, JOSH WIDDICOMBE, ANNA MORRIS, JAN RAVENS, DAN RENTON SKINNER, MARTIN TRENAMAN, BOBBY DAVRO, MARK MORRISS, RORY BREMNER, ARTHUR SMITH and KATE ROBBINS & NORMAN LOVETT (again!) – here (or wherever you find your podcasts):
You can also still download old episodes of MTMC via Apple Podcasts

here

or listen to them using Spotify, Google Podcasts, Podbean and most other major podcast-streaming services,

or direct from our RSS feed

 

here 

.
---